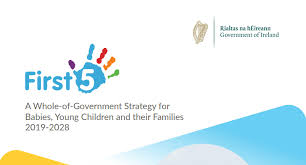 PRESS RELEASE: 
Issued by the Prevention and Early Intervention Network (PEIN)
Wednesday, November 21, 2018.
Focus on Prevention and Early Intervention in 'First 5 Years' Strategy welcomed by Network
The Prevention and Early Intervention Network (PEIN) has welcomed the launch of 'First 5', the new Government strategy for Babies, Young Children and their Families.
The strategy includes a clear focus on prevention and early intervention approaches to supporting children and parents in their first five years of life.
PEIN Chairperson Marian Quinn said: "The Network is pleased that First 5 is a ten-year, whole-of-Government approach covering education, health and parenting – as well as identifying the specific staffing and expertise needed to deliver the plan."
"The Strategy includes a considerable focus on prevention and early intervention. It also sets out a broad scope including actions on: diet, reading, play, speech and language, mental health and planning of communities.
"PEIN is pleased that First 5 includes universal commitments to support bonding and to address childcare challenges currently faced by parents.
"There are also important targeted commitments such as specialised early learning centres in areas of disadvantage, specialised interventions to support vulnerable families and high-quality parenting programmes tailored for different needs of parents.
"The strategy acknowledges existing prevention and early intervention programmes within Ireland and the importance of continuing to resource and learn from those which are proving effective. PEIN members welcome these commitments and look forward to supporting them.
"The strategy also recognises the need for the development of skilled early childhood education and healthcare professional sectors, which are resourced to retain staff for the long term."
Ms Quinn continued: "To deliver on this ambitious strategy policy, staffing and funding commitments will need to be delivered year on year – and PEIN will be closely monitoring for full implementation."
"The Network would like to acknowledge the commitment of Minister for Children and Youth Affairs Katherine Zappone together with other Government Departments and the fact that this is a ten year plan looking beyond immediate budgets, or the next election cycle."
There is a large body of Irish and international evidence which acknowledges the strong value to society and the economy which prevention and early intervention brings.
Research in Ireland has suggested that every €1 invested in prevention and early intervention saves the State €4 in the long term. The National Economic and Social Forum has stated a return on investment of €4-7 for every €1 invested.
More information on PEIN is available at www.pein.ie.
Further Information
Ronan Cavanagh, Cavanagh Communications: (086) 317 9731 / [email protected]
The Prevention and Early Intervention Network (PEIN) represents organisations which are working to improve outcomes for children and families, with a focus on prevention and early intervention approaches. www.pein.ie
A summary of the strategy is available on the DCYA website
20/09/20: Summit in Limerick calls on government to "invest in smoke alarms instead of spending disproportionately on fire extinguishers." Hosted by […]

Joining us in Limerick for the Prevention and Early Intervention Summit? Click here: PEI Summit Delegate Welcome Pack Final to […]